Life, Health, Accidents and Annuities
The Pre-licensing Course is structured to meet various state prelicensing requirements. Several tools are provided within the course to make your learning straightforward and comprehensive.

3 Month access to our famous 60-hour pre-licensing courseThe course is text-based (work at your own pace - no videos required). Take the course from your smartphone, tablet, or computer. The course is 100% online, including the final exam. 3-months access to the course, with up to three 1-month extensions available. Your instructor answers questions online in forums, by email, via Moodle messaging, or by telephone. This course is designed to prepare a student to become a 2-15 Health..
6-month Access to our Famous Health and Life Insurance Pre-Licensing courseThis 60-hour pre-licensing course is designed to prepare a student to become a 2-15 Health and Life agent without the loss of production income and time. Work at your own pace with your instructor available via e-mail or telephone. Upon successful completion of this course, you will be eligible to sit for the state examination. This course is designed and taught to comply with the State requirements for the Heal..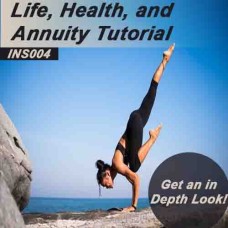 This tutorial takes an in-depth look at Life, Health & Annuities so that the student can be prepared not only for their state exam but for their career in the insurance industry. The course includes a course map for easy navigation and three exams to help the student gauge their comprehension. In addition to the features listed above, there is expanded material for the following states: Arizona, Iowa, Missouri, New Mexico, Oklahoma, Texas, and Virginia. Topics covered in this course inclu..
Showing 1 to 3 of 3 (1 Pages)